Michael Davidson's Cigar Band Collection
Welcome to the Michael Davidson's Cigar Band Collection home page. I used to collect cigar bands back in Toronto when I was a kid, seven or eight years old in the early sixties. That collection was lost. Imagine my joy of finding this collection in a yard sale for $2 in Ottawa. Most of them look like they were picked off the side walk or gutter in front of the local variety store - that's how I got most of mine. The most common duplicated ones were most likely saved by the cigar-smoking dad and given to his collector son or daughter.
The cigar bands here seem to have been collected around 1909. That date is stamped onto the "New 10" band. Another band shows Wilfred Laurier who was Prime Minister between 1896 and 1911. There is also a picture of tea magnate Thomas Lipton which resembles a photo on Wikipedia of Lipton taken helpfully the same year (1909). The Irving Cigar Company of Montreal, from which I have many duplicate bands, was active around the turn of that century. Between the "New 10" band and the Irving "Canada's Leading 10c Cigar" band, we can presume cigars cost about ten cents at that time. However there is also an Irving "Canada's Leading Cigar" band, with no "10c" so maybe the price went up.
From Wikipedia Cigar_band: At the turn of the 20th Century an estimated four out of five American men smoked cigars, with production handled in literally hundreds of factories. Product differentiation became very important in the fiercely competitive marketplace as makers struggled to win and keep market share. With the cost of production of cigar bands approximately 70 cents per thousand, the use of colorful maker's marks became an important tool for building brand identities. Historians estimate that approximately 2 billion cigar bands were sold in the United States in the year 1900 alone.
Funny, you start off as a kid with cigar bands in a cigar box. Now, half a century later, I am a big kid with a virtual on-line cigar band collection page. Honestly, I don't even smoke - certainly not cigars, as well. I looked up cigar band prices on eBay and I think I may have overpaid buying this collection for $2.
I have some common ones to trade: "Irving - Canada's Leading Cigar", "Tuckett's Marguerite", and "Tuckett's red shield" - Write me at sleepless3@gmail.com to discuss. Enjoy.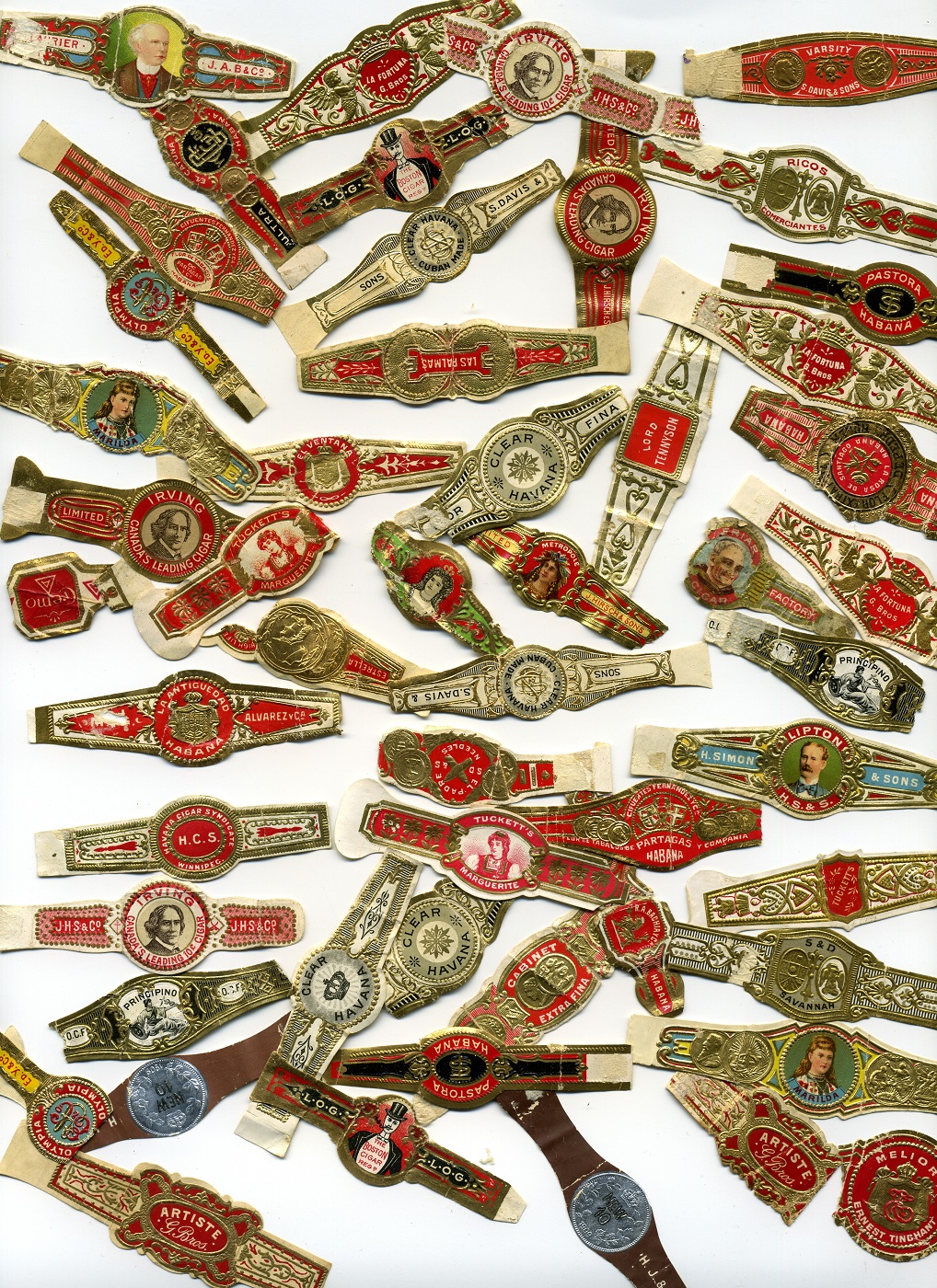 Here is my dated band with the 1909 date. The "New 10" motto is a bit odd, because, 1./ The band shows the old Victoria laurel from a decade before that, 2./ The new George 5th dimes came in only during 1911.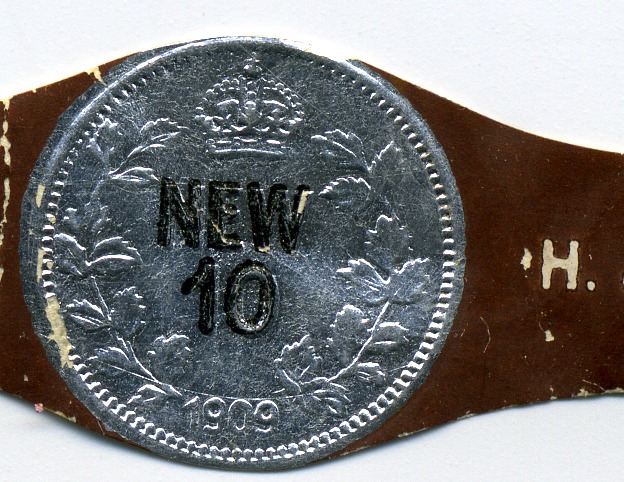 Here is a cigar band showing Sir Wilfrid Laurier who was Prime Minister between 1896 and 1911. This would be the cigar of good Liberals, I guess.


Here is Scottish tea magnate Thomas Lipton. cigar band.



Here is his picture conveniently dated 1909 from Wikipedia. The cigar band shows more hair - maybe it is earlier than 1909.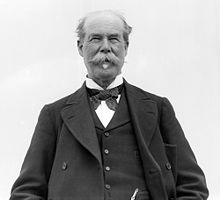 This one from Montreal cigar maker J. Hirsch & Sons - maker of Irving cigars. See more of their work at
Canada Museum of Civilization Cigar Box page.


Here is a small bit of Canadiana - a Winnipeg cigar band.


There is this huge one from Florida as well.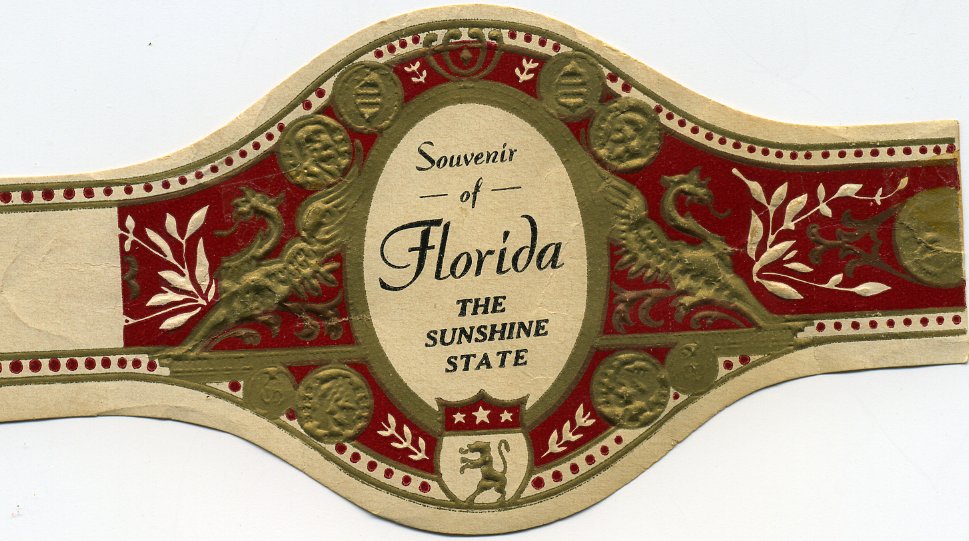 Other Cigar Band Links
Rings Around Cigars: The Cigar Band. The Band The History and the Romance of Cigar's Paper Ring by Tony Hyman

Cigar Label Gazette These guys are really into cigar labels and bands. You can change the link number from 31 to 25 or 32 ...

eBay Cigar bands. Google "eBay cigar bands" if this link doesn't work. They are priced at next to nothing if you have too much money and not enough stuff.

Burkhard Ramón Prange Cigard labels collection. A spectacular Spanish and international collection.

Although mine are all ratty looking. Look at how beautiful and in mint condition this fellow's collection is.



Counter started April 8, 2013.

Web Counter