Wilson and Jane Street Area, Crang Plaza
Downsview in the late 50s and early 60s
This wasn't really my area, so if anybody has some interesting stories about this area, or recognizes something
interesting in the pictures, please let me know at sleepless3@gmail.com (Michael Davidson).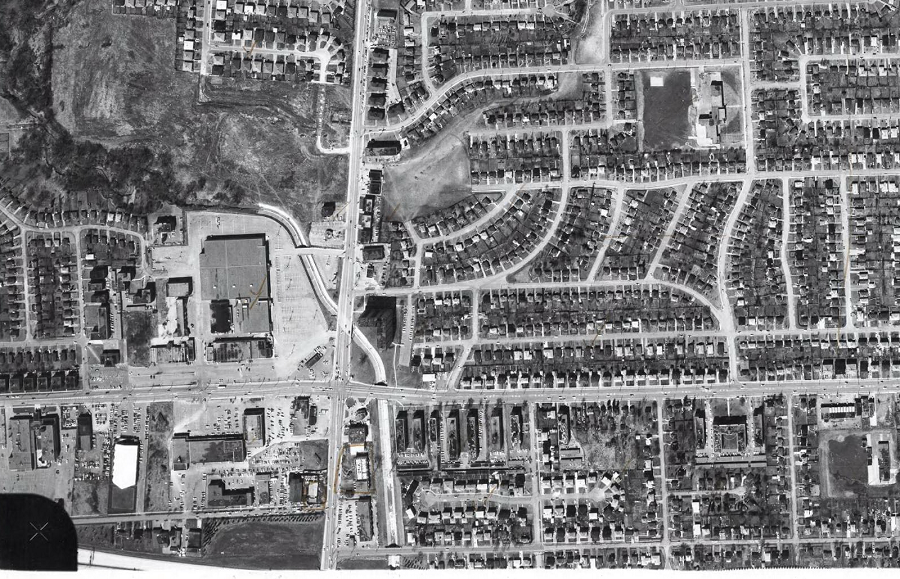 An aerial view of area around Jane Street and Wilson Avenue from 1969.
Click here for a larger more detailed view of the same picture. 1969. Jane_Wilson_1969_aerial_large.png
---

Steinberg's at Crang Plaza. (1960).
Steinbergs: A chain from the USA called Grand Union opened a supermarket at Crang Plaza in the mid 50's and Steinbergs took over all their stores in the late 50's. Steinberg was owned by the Montreal Steinberg family and the Crang Plaza Steinberg's here at the northwest corner of Jane and Wilson Ave was their first store. Steinberg's also opened Miracle Mart, a discount department store like Zellers, around the other side facing Jane Street in the early 60's. Steinbergs faced Wilson Ave while Miracle Food Mart was built around the other side facing Jane Street. Miracle Mart used a card system so you could drive up to the front and pick up your groceries from baskets. Steinbergs became Rexall Pharmacy at some point. North York Sheridan Mall was built in 1990.

Crang Plaza: What else was at Crang Plaza? What were the names of the other stores located there in the sixties? There was the Ontario Conservatory of Music, on the second floor of Crang Plaza, the CIBC bank with its drive thru window, Moffat& Gardener Pharmacy, a jewellery store, a restaurant, a hair salon and finally Beckers. Pollocks Shoes. Bill Dowlings had a car dealership indoors at Crang Plaza. Ciro's Restaurant beside the record store.

West across the road behind Crang Plaza was the back part with the Crang Plaza Auditorium, the Janeway Bowling Alley (where the tough guys hung out), the Benjamin paint store, Arlington Pet Store, Sid's Smoke shop (a certain Phil Ciglen got his Beatles tickets here), and Turners butcher shop.

19 Police Division was located in The Crang Plaza which was a strip mall. The station occupied one whole storefront on the west side of the plaza alongside the Park Seafood which sold the old style fish & chips wrapped in newspaper. A meal of fish & chips sold for 65 cents. Next to it was the Arlington Pet Shop and the big grocery store of the day facing Wilson Avenue was Grand Union which later became Steinbergs. Opposite the police station was the Crang Plaza Auditorium with the Crang Plaza Bowl downstairs.
From 31 Police Division, Crang Plaza update.

The story goes that when Crang plaza was built, the builders bulldozed a native palisaded village into the ground. The Oakdale Acres subdivision was behind Crang plaza. See also the
North York Historical Society article on Crang Plaza.

York plaza was directly across from Crang Plaza. It had a Women's bakery and a Woolworths. And a Fairweather's for more fancy clothes! Wasn't there an army surplus store there once or was that Jerry's Budget Shop?

North up Jane and facing Jane Street was McCarrian's Restaurant, then Fullers' with it beef dip


Bill Dowling's Cars? St Philip Neri church. What else? An LCBO and a dry cleaner. Where were they? Robbie's pizza across the road from Miracle Mart.

.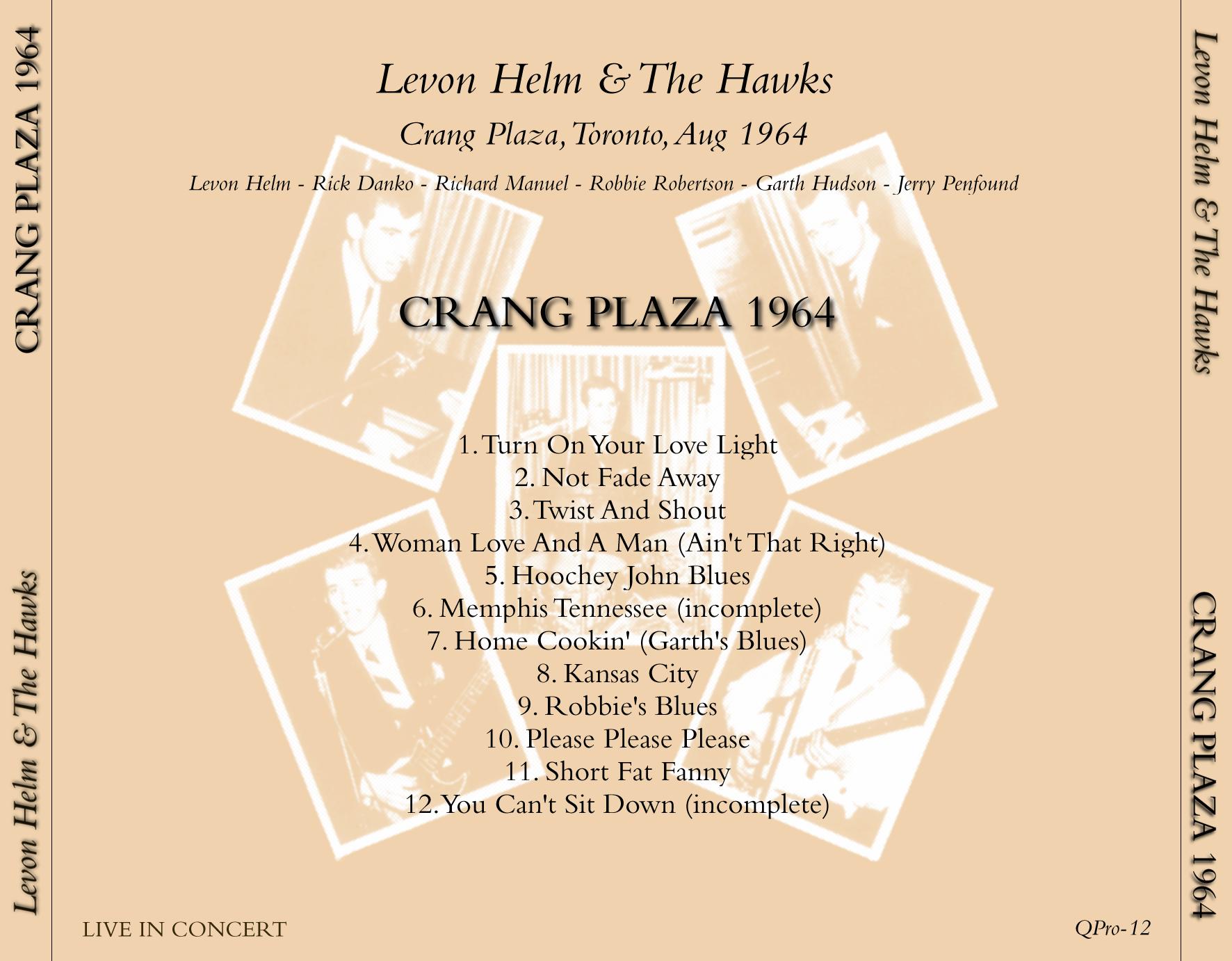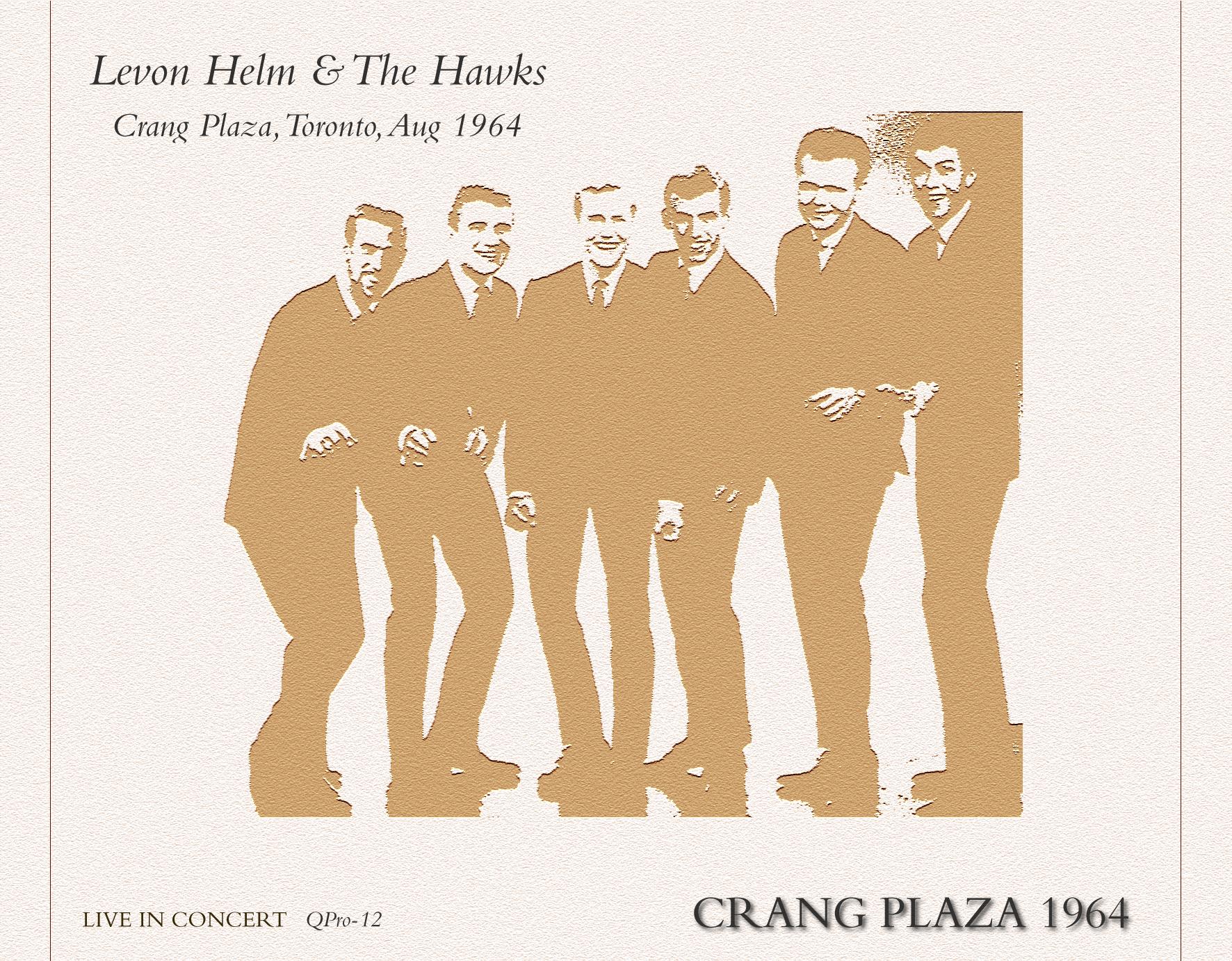 Bootleg album cover from 1964 playing at the Crang Plaza Auditorium. Levon Helm and the Hawks would eventually become "The Band". Ike and Tina Turner played played at Crang Plaza as well. Jim Reeves too. They had great Friday night dances to the sounds of live Roy Orbison, Richie Knight and the Midnights, and Little Caesar and the Consuls.
The Jane Exbury Towers.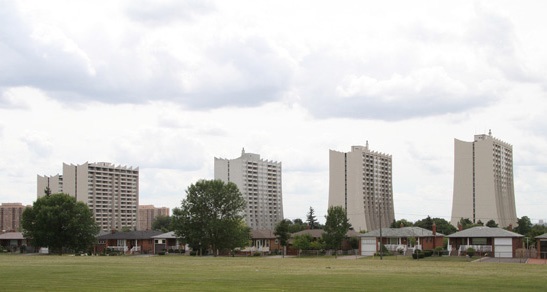 Beverly Hills Seaway Motor Hotel (with The Hook and Ladder Club sign for Billy Daniels) (1967?) City of Toronto Archives.

Off in the wilds of Jane Street. Toronto Fire Station 146. From the mid-1950s.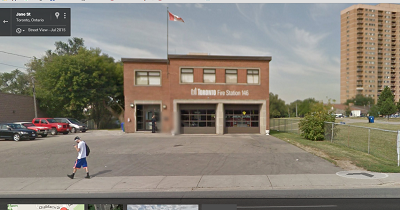 Now from Google Street View. 2220 Jane St.

Jane and Wilson. Supertest, Dairy Queen. (196??)

Dairy Queen on Jane Street south of Wilson. 1960s.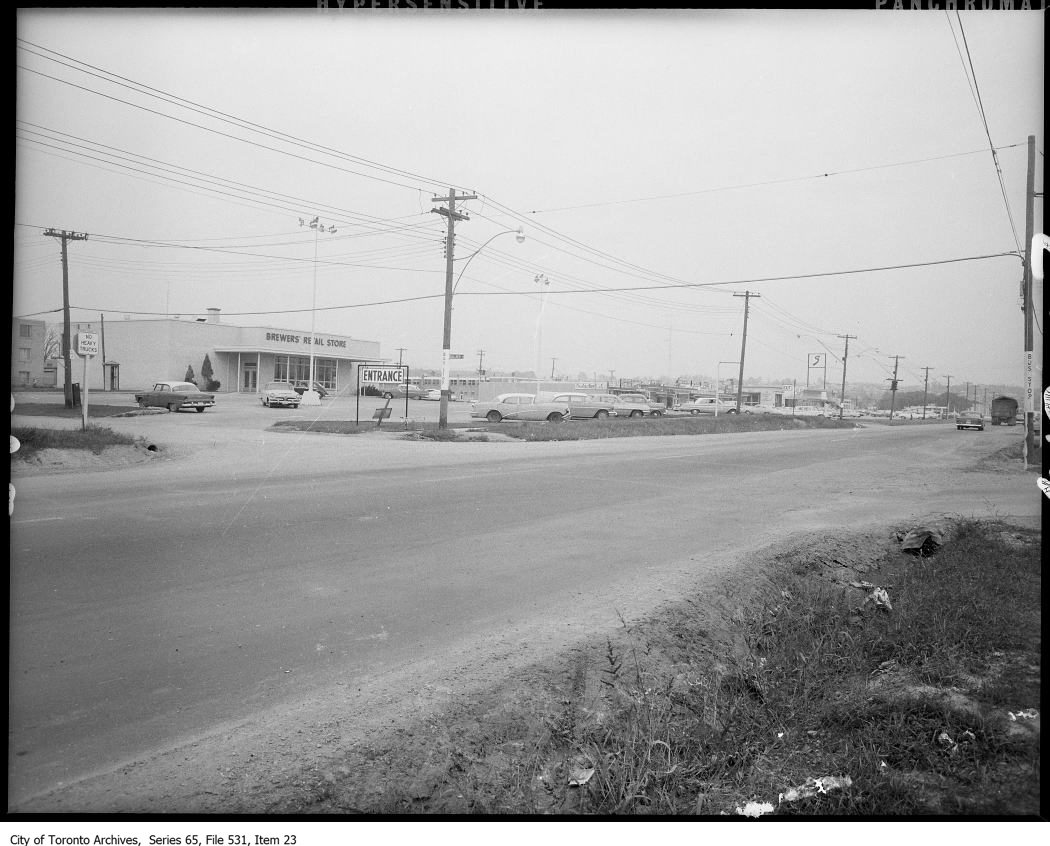 Brewers' Retail. 1960s -- absolutely a landmark. On Jane Street, west of Wilson. There was no other place anywhere for miles around to buy beer.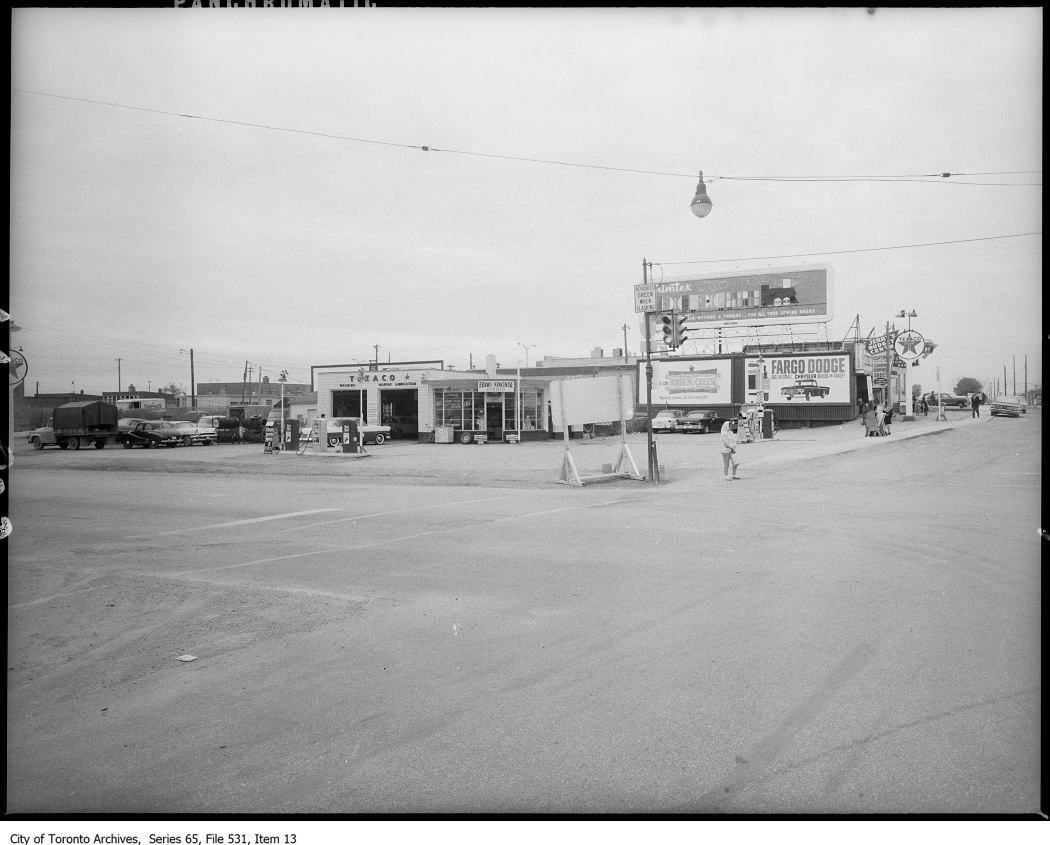 Texaco gas station. South west corner of Jane and Wilson -- 1962. Jane Street on the left. Wilson on the right with Jerry's Budget Center.

Stores on the south side Wilson, west side of Jane. Mid 1960s or earlier. Jerry's Budget Center and the Wilson Restaurant.

Brewers' Retail. 1960s -- absolutely a landmark. On Jane Street, west of Wilson. Now with Steinberg's sign.

Jane Street, South of Wilson -- Pelmo Park Shopsy's Hot Dogs (196??)

Jane Street, South of Wilson. White Rose Garage. (196??)
Wilson Ave., looking w. across Jane St. -- 1955


The big white sign hoisted above the plaza says "Grand Union".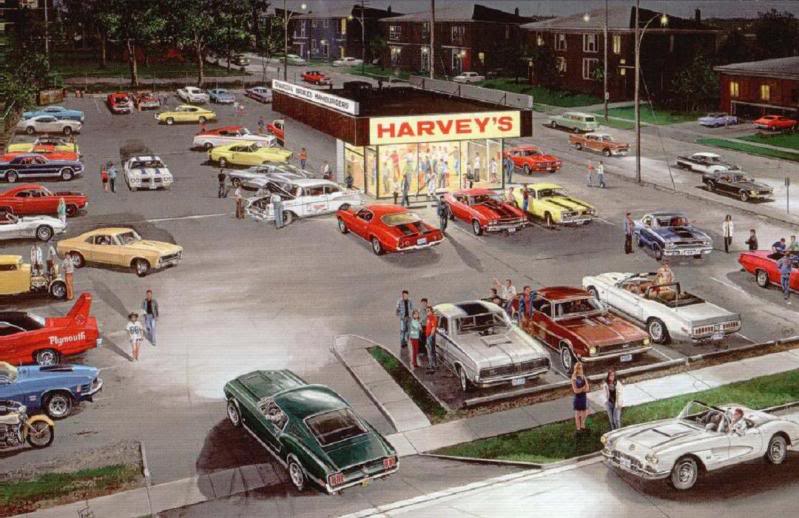 Harvey's at Jane and Falstaff -- 1970s. Home of the Hot ones. From and see more at Ontario Rodders - Harvey's ...Jane & 401

Harvey's sponsored 1957 Chevy race car - good motor but there is no replacement for displacement. After hanging out at Harvey's the boys would go to Weston Rd North of Finch or along the 400 north of the 400 Drive In to drag race.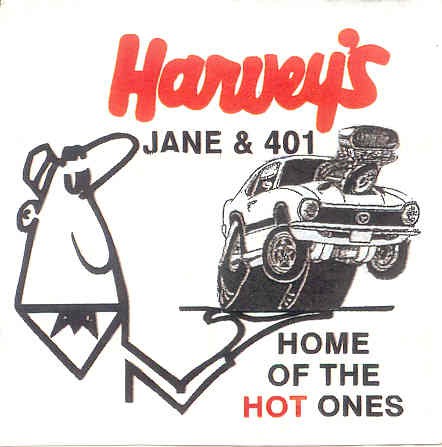 Wilson Avenue, East of Jane Street and looking east up the hill towards Keele Street.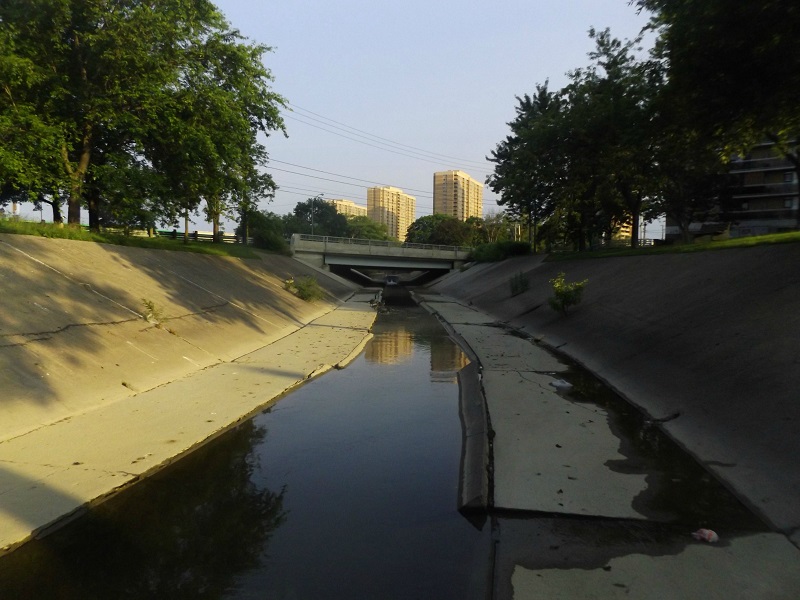 Black Creek concrete control channels -- Jane and Wilson.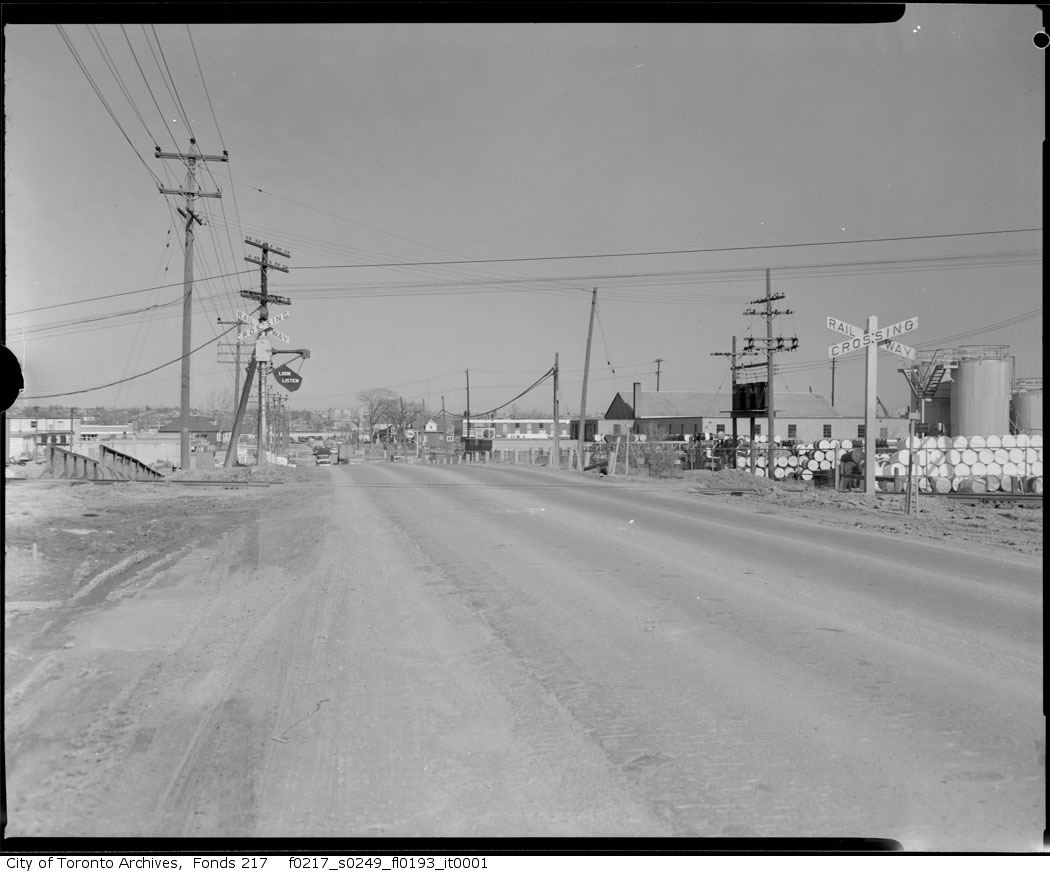 Wilson, east of Weston at the train track crossing - 1964. The first Bad Boy Store was in the little plaza at the corner of Weston Rd and Wilson.

Downsview Arena -- west of Jane on Wilson.

Downsview Arena -- west of Jane on Wilson.

Royal Bank at 1730 Jane Street, in the plaza north west of Jane and Lawrence Ave. West. [196-?]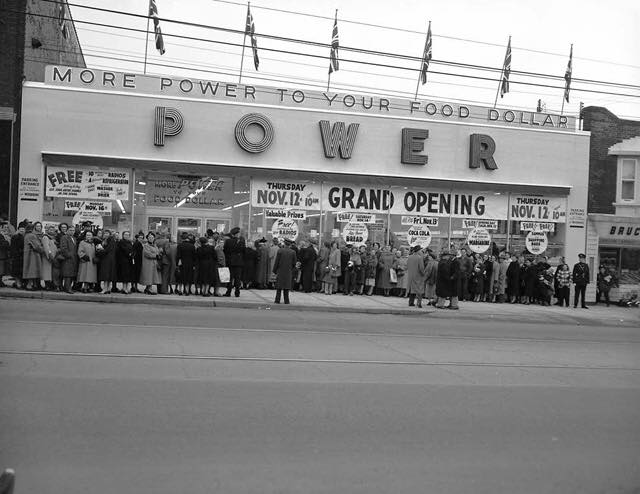 Power Super Market, Jane and Lawrence.
---
Return to Downsview 1960s Home Page
---
Since May 18, 2016


Free Hit Counter