deHavilland Aircraft and CFB Downsview
Downsview in the late 50s and early 60s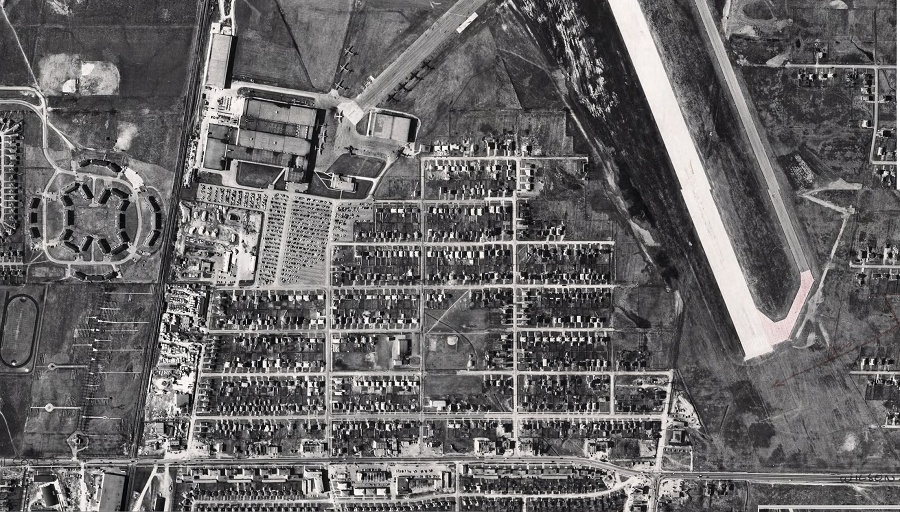 An aerial view of the neighbourhood between Wilson Avenue and deHavilland and the tracks and Dufferin Street from 1962.
Everybody who went to Ancaster Road Public School will like this photo.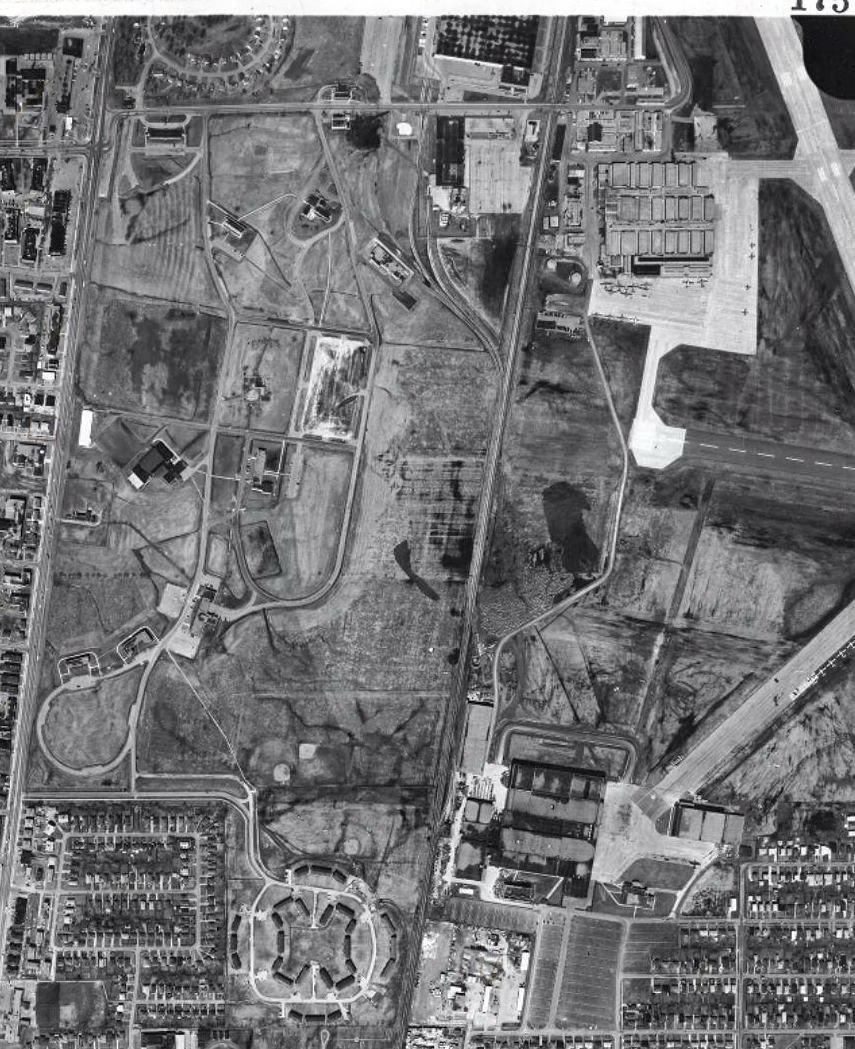 CFB Downsview - Canada Forces Base Downsview - 1969 (Aerial)
The railway tracks go up through the centre. Keele Street is on the left side.
deHavilland on the Right. North at the top.

See also https://en.wikipedia.org/wiki/CFB_Downsview
Downsview Airport
Downsview began a new chapter in it's history in 1928 when the world famous De Havilland Aircraft Company chose Downsview as it's home. The Canadian Armed Forces followed De Havilland to Downsview setting up an important military base in Downsview during World War Two. Once the war was over Downsview experienced a building boom which saw the entire neighbourhood developed by the early 1970's.

Downsview Airport. North is at the top and the distinctive road at the bottom of the picture is Wilson Avenue. Notice the distinctive jogs in the road where Wilson crosses Dufferin and Keele. The long runway is cutting across Dufferin Street. They must be just building the airport so the picture likely goes back to the war. The railway track goes up and down in the middle of the picture and Keele Street goes up and down on the left side. The plane that took this photo must have been pretty high up there.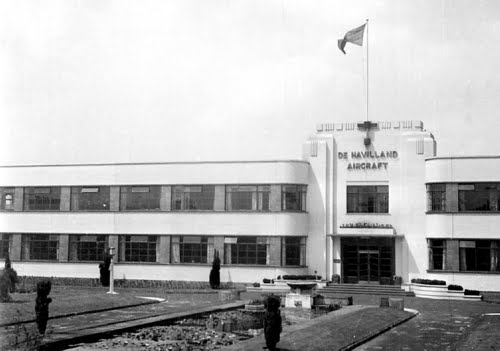 Down the road from Ancaster Road Public School. The parking lot at Dehavilland was a great place to bicycle around. There was a few sculptures and plaques that I would like to see again along with a yard of old engineering parts one could look at through a fence.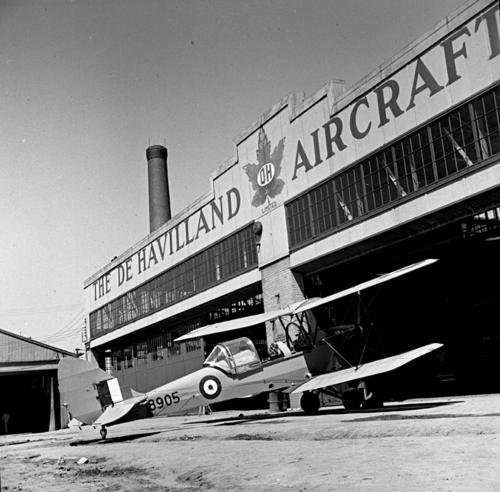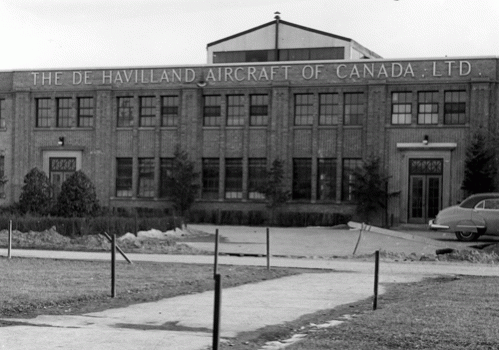 Both from the delightful The Story of Plant #1 at Downsview - By David Wencer.

From the north of the airport looking south. You can see Wilson, the 401, and the Allan Expressway.

Source - Benny Lin
The airport is now Bombardier Aerospace Downsview.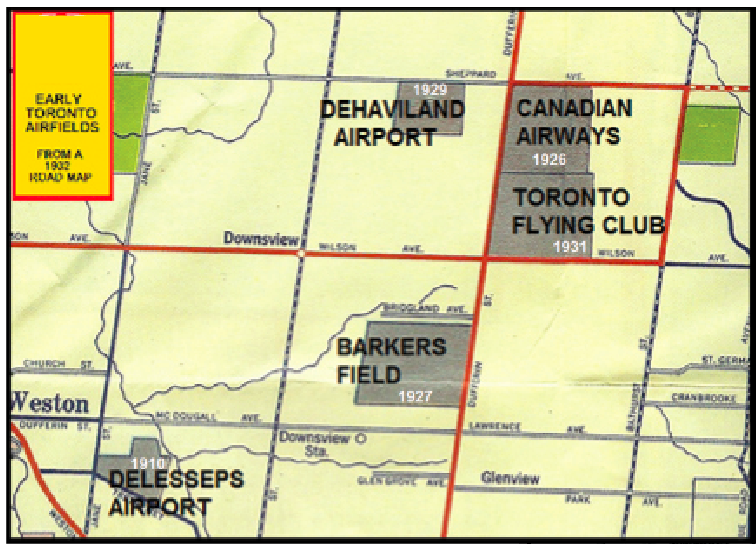 Source - Downsview Advocate

Downsview Airshow 1946 - CANAV Books Blog. Photo from So Long Downsview Hangars An article from the CANAV Books Blog.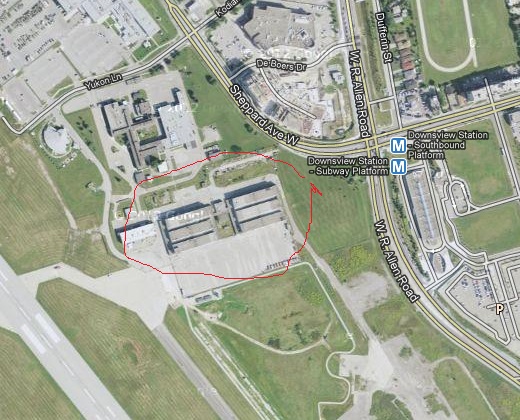 The building shown in the picture above was at Sheppard and the Allan Road.
---
Return to Downsview 1960s Home Page
---
Since May 18, 2016


Free Hit Counter